Date: January 12, 2018
With all the benefits (such as lower transaction cost and high confidentiality) that are said to derive from cryptocurrencies, skepticism remains high among some investors about the future of this modern means of transfer. The high cost of energy needed to power these highly specialized computers, which are used to mine these currencies, is one source of concern.
One of the latest reports posted on Bloomberg reads: "Bitcoin slumped again on Friday, leaving the largest cryptocurrency heading for its worst weekly performance in three years as regulators around the world step up scrutiny out of concerns ranging from investor losses to strains on power systems."
Bitcoin was traded at $13,019; a fall of about 33 percent from its mid-December peak.
Similar to fiat currency (paper money) cryptocurrency has no intrinsic value, ie., it has no use in and of itself. However, fiat currency is guaranteed by central government all over the world; unlike cryptocurrency that is yet to be endorsed by a central authority.
Bloomberg further reports that:
Among the blows to cryptocurrencies this week, was the South Korean justice minister's reiteration of a proposal to ban local cryptocurrency exchanges, though the comments were later downplayed by a spokesman for the president. Meanwhile, bitcoin mining — the process needed to facilitate transactions — is set to become more expensive as China's government cracks down on the industry.
In the U.S., scrutiny is set to increase amid concerns about the potential use of cryptocurrencies for fraudulent purposes such as money laundering. Securities and Exchange Commission Chairman, Jay Clayton and Commodity Futures Trading Commission Chairman, J. Christopher Giancarlo are set to testify to the Senate Banking Committee on risks tied to bitcoin and its counterparts, according to a person with direct knowledge of the matter. The committee intends to hold a hearing in early February, the person said.
The chart show prices of some cryptocurrencies from Oct 2017 – Jan 2018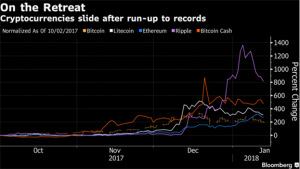 Source: Bloomberg