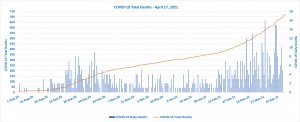 The graph above shows deaths reported since the previous day and the 7-day moving average
As of April 17, 2021, the outbreak of the coronavirus disease (COVID-19) had spread across the globe to six continents, and three million people had died after contracting the respiratory virus. Cases now stand at 142,178,369 globally. Locally, the total cases amount to 43,890, with 206 confirmed cases being reported on Saturday, April 17, 2021. Based on the COVID-19 Clinical Management Summary for April 17, 2021, 2 deaths were recorded, which takes the death toll for COVID-19 positive individuals to 723.
Approximately 215 countries and territories worldwide have been affected by the COVID-19 disease. The virus is still circulating at very high rates, and many countries have reintroduced lockdown rules to slow the spread recorded over the winter months. Furthermore, fresh travel restrictions have been implemented following the discovery of new variants, particularly those first identified in the UK and South Africa.