August 10, 2018
Click link below for more details.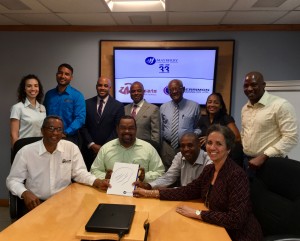 Front row, l-r: Christopher and Andrene Collings, Directors of Woodcats International, join Gary Peart, CEO of Mayberry Investments and Derrick Cotterell, Chairman and CEO of Derrimon Trading, in showing the signed sale agreement.
Back row, l-r: Tracy- Ann Smith and Stephen Collings, both of Woodacts International, along with Dane Patterson, attorney from Patterson Hamilton Mair, Alex Williams, attorney representing Derrimon Trading, Earl Richards, Director at Derrimon Trading, Tania Waldron-Gooden, Director of Investor Banking at Mayberry Investments and Ian Kelly, CFO at Derrimon Trading.