Brent Oil
Brent oil prices declined by 3.25%, as prices increased this week. Oil traded on August 30, 2017 at a price of 50.86 (US$/ barrel).
Petrojam prices
87 Octane prices declined week over week, by 1.62% . Additionally 90 Octane  declined by 1.58% week over week. 87 Octane and 90 Octane opened the year at J$97.32 and J$98.98 respectively.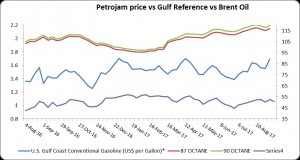 Figure 1: Petrojam, U.S. Gulf Coast Conventional Gasoline Regular and Brent Crude Oil 1 Year Price History
This Week in Petroleum
Hurricane Harvey adds considerable uncertainty surrounding gasoline prices for the upcoming Labor Day weekend
EIA has traditionally published a gasoline supply and price TWIP prior to the Labor Day weekend, but the devastation caused by Hurricane Harvey casts a great deal of uncertainty regarding what may happen over the next few weeks. On August 28, the U.S. average retail gasoline price was $2.40 per gallon (gal), the second-lowest price on the Monday before Labor Day since 2004. While the average Monday price was up 4 cents/gal over the previous week, prices on that date do not yet reflect the full effects of Hurricane Harvey.
Retail gasoline prices vary significantly within the United States as a result of regional supply and demand balances, gasoline specification requirements, and taxes (Figure 2). As of August 28, regular retail gasoline prices were $2.34/gal on the East Coast, $2.31/gal in the Midwest, $2.16/gal on the Gulf Coast, $2.47/gal in the Rocky Mountains, and $2.90/gal on the West Coast. West Coast retail gasoline prices are often above the U.S. average because of the region's isolation from additional supply sources, gasoline specifications that are more costly to manufacture, and higher taxes. The U.S. Gulf Coast typically has the lowest retail gasoline prices in the country because it is home to approximately 50% of U.S. refining capacity and produces more gasoline than it consumes, and because regional state taxes on gasoline tend to be lower than in the United States on average. The Texas Gulf Coast alone is home to over 25% of U.S. refining capacity, and the U.S. Federal Offshore Gulf of Mexico accounts for nearly 20% of total U.S. crude oil production. However, Hurricane Harvey, which hit the Gulf Coast last Friday, has impacted crude oil production and refinery operations in the region. A number of refineries have shut down or are operating at reduced rates. Electrical power, ability of personnel to reach the refineries, and distribution of crude oil and petroleum products remain potential challenges to quickly restarting the refineries. This may have notable impacts on gasoline prices in the region, which could spread to other markets. The East Coast in particular is largely dependent on shipments of transportation fuels from the Gulf Coast.
https://www.eia.gov/petroleum/weekly/