February 1, 2018
Brent Oil
Brent oil prices fell by 2.57% or US$1.82, as prices decreased this week. Oil traded on February 1, 2018 at a price of $69.13 per barrel relative to US$70.95 last week. Brent oil began the year at US$68.07 per barrel.
Petrojam prices
87 Octane prices increased week over week, by 0.95% (JMD$1.17). Additionally 90 Octane  rose by 0.93% or (JMD$1.17) week over week. 87 Octane and 90 Octane opened the year at J$121.04 and J$123.88 respectively and now trades at J$123.89 and J$126.73 per litre respectively.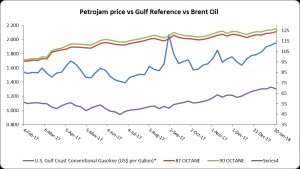 Figure 1: Petrojam, U.S. Gulf Coast Conventional Gasoline Regular and Brent Crude Oil 1 Year Price History
This Week in Petroleum
China is now the world's largest crude oil importer:
China surpassed the United States in annual gross crude oil imports in 2017 by importing 8.4 million barrels per day (b/d) compared with 7.9 million b/d of U.S. crude oil imports (Figure 1). China had become the world's largest net importer (imports less exports) of total petroleum and other liquid fuels in 2013. New refinery capacity and strategic inventory stockpiling combined with declining domestic production were the major factors contributing to the recent increase in Chinese crude oil imports.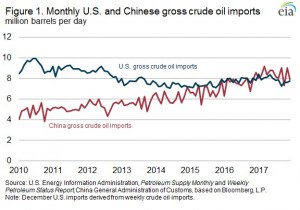 Figure 1. Monthly U.S. and Chinese gross crude oil imports
In 2017, an average of 56% of China's crude oil imports came from countries within the Organization of the Petroleum Exporting Countries (OPEC). The share of Chinese crude oil imports from OPEC countries declined from a peak of 67% in 2012, while Russia and Brazil increased their market share of Chinese imports more than any other country, from 9% to 14% and from 2% to 5%, respectively (Figure 2). Imports from Russia, which passed Saudi Arabia as China's largest source of foreign crude oil in 2016, totaled 1.2 million b/d in 2017, while Saudi Arabia accounted for 1.0 million b/d. OPEC countries and some non-OPEC countries, including Russia, agreed to reduce crude oil production through the end of 2018, which may have allowed other countries to increase their market share in China in 2017.
For additional information, click on link below.