Gas Price Movement
March 1, 2018
Brent Oil
Brent oil prices fell by 4.53% or US$3.01, as prices decreased this week. Oil traded on March 1, 2018 at a price of $63.38 per barrel relative to US$66.39 last week. Brent oil began the year at US$68.07 per barrel.
Petrojam prices
87 Octane prices increase week over week, by 1.50% (JMD$1.79). Additionally 90 Octane rose by 1.50% or (JMD$1.79) week over week. 87 Octane and 90 Octane opened the year at J$121.04 and J$123.88 respectively and now trades at J$121.14 and J$123.98 per litre respectively.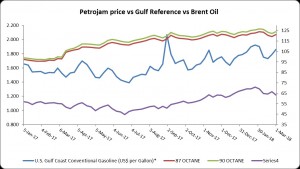 Figure 1: Petrojam, U.S. Gulf Coast Conventional Gasoline Regular and Brent Crude Oil 1 Year Price History
This Week in Petroleum
U.S. propane prices and crude oil prices re-link as exports increase
As the saying goes, eventually the solution to low prices is low prices. The U.S. propane market's transition from balancing via imports to balancing via exports is a recent example. In 2017, U.S. propane exports averaged 905,000 barrels per day (b/d), a level high enough to balance U.S. propane markets and re-establish the link between U.S. and global propane prices (Figure 1). This change followed several years in which U.S. propane prices were significantly lower than elsewhere in the world because U.S. propane production had increased significantly, outpacing domestic demand and export capacity. Sustained lower propane prices in the U.S. encouraged investments to expand export capacity, leading to the eventual re-linkage of U.S. prices with global markets.
In the United States, propane is used mainly for space heating, as a feedstock for petrochemical plants, and, to a lesser extent, for agricultural applications and transportation. Propane's use as a heating fuel results in a seasonal pattern in its consumption, peaking in the winter.
Until 2010, the United States had been a net propane importer. As a net importer, U.S. propane prices were linked with international propane prices, which in turn are linked with crude oil prices. Between 1993 and 2005, the U.S. propane price at Mont Belvieu, Texas, (the main U.S. propane trading hub for propane) averaged about 80% of the international crude oil price benchmark Brent on a dollar-per-barrel basis.
For additional information, click on link below.
The information contained herein has been obtained from sources believed to be reliable, however its accuracy and completeness cannot be guaranteed. You are hereby notified that any disclosure, copying, distribution or taking any action in reliance on the contents of this information is strictly prohibited and may be unlawful. Mayberry may effect transactions or have positions in securities mentioned herein. In addition, employees of Mayberry may have positions and effect transactions in the securities mentioned herein.