July 23, 2018
The U.S. Bureau of Economic Analysis indicated that, "14 of 22 industry groups contributed to the overall 2 percent increase in real GDP in the first quarter. Real estate and rental and leasing, information  and non-durable goods manufacturing were the leading contributors to the increase in U.S. economic growth in the first quarter of 2018.
Real Value Added By Industry
The real value added increased 3.3 percent in the first quarter for the real estate and rental and leasing industry group after 1.9 percent increase in the fourth quarter. The increase in the housing services industry resulted in the growth in the first quarter.
As for information services, there was a 6.8 percent increase relative to a decrease of 0.2 percent. The first quarter growth was as a result of increases to both broadcasting and telecommunications and the publishing industry.
While, non-durable goods manufacturing increased by 3.8 percent subsequent to a 3.1 percent increase. As the first quarter reflected increases in petroleum and coal products, as well as food, beverage and tobacco products.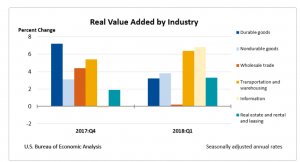 Real Gross Output by Industry
"Overall, 13 of 22 industry groups contributed to the increase in real gross output."
There was an increase in the economy-wide, real gross output of 2.7 percent in the first quarter. Thus, reflecting increases of 3.2 percent, 3 percent and 0.3 percent for the private goods-producing sector, private services-producing sector and the government sector, respectively.
Durable goods increased 2.8 percent which was primarily resulted from motor vehicles, bodies and trailers and parts manufacturing. Transportation and warehousing was the largest increase since the fourth quarter of 2014 indicating a 7.2 percent increase. This primarily reflected increases in air and truck transportation.
Notably, the information services industry has increased for seven consecutive quarters with a current increase of 7.2 percent, after increasing by 4.2 percent.
The information contained herein has been obtained from sources believed to be reliable, however its accuracy and completeness cannot be guaranteed. You are hereby notified that any disclosure, copying, distribution or taking any action in reliance on the contents of this information is strictly prohibited and may be unlawful. Mayberry may effect transactions or have positions in securities mentioned herein. In addition, employees of Mayberry may have positions and effect transactions in the securities mentioned herein.