December 22, 2020
One of the segments which has held up well in COVID-19 is the Food Distribution segment as food is a requirement for survival. With the end of 2020 near and 2021 fast approaching, unearthing the best companies in this segment to invest in for the future is imperative. Investors embark on this process annually. However, 2021 may be a little tricky. Investors may see a gradual recovery in the global economy, with the second half of the year's performance expected to be much stronger than the first half, based on the efficacy and distribution of the Covid-19 vaccines.
2020 has been a roller-coaster ride for investors as Covid-19 disrupted many industries while others flourished. Pandemics' common point is their serious negative effects on companies' earnings potential and the impact on the global economy. Considering the Food and Distribution industry, it is one of the most important sectors of the economy. For this industry, Covid-19 has impacted the whole process from the field to the consumer. Consequently, choosing the best distribution company to invest in for your portfolio going into 2021 may be tricky as the coronavirus continues to unfold. However, Mayberry Investments Limited is here to help as over the years, we have created opportunities for clients to realize their financial objectives.
Although investment does not guarantee positive returns all the time, it is a good way of securing your future and your family's future, especially after retirement. Some companies can guarantee a good investment return depending on the stocks you choose to buy. Now imagine you received a call that you are the next of kin for a wealthy uncle and you've just inherited US$1 million dollars; which food and distribution company would you invest in for the next ten years? Certainly, a few companies should come to mind. The notable ones being Wisynco Group Limited, GraceKennedy Limited, Seprod Limited on the Main Market of the Jamaica Stock Exchange. At the same time, Lasco Distributors Limited and Derrimon Trading Company Limited are clear contenders from the Junior Market of the JSE. Looking at each of the companies above, how do you exactly pick the right Company for your portfolio? For this exercise, we will use a few key metrics to select which Company we are going to invest in for the next ten years.
Profitability

Based on the table above GK produces the highest profit of the companies operating in the Food and Distribution industry that are listed Jamaica Stock Exchange. GK's five year compounded annualized growth rate for its net profit as at the end of 2019 was 14%, while DTL boasts a massive 36% highlighting its aggressive growth trend while being on the Junior Market of the Jamaica Stock Exchange. Despite this massive 5-year CAGR, the Company's market capitalization on the JSE was just $6.29 billion dollars, below its closest peer LASD, with a market capitalization of $11.16 billion as at December 17, 2020. GK possesses a far greater market capitalization of $61.02 billion, lending to the school of thought in this current investment climate. Investors at this time should be looking to invest in companies possessing the balance sheet able to manage the Covid-19 impact.
In contrast, DTL's growth potential should not be ignored as the Company recently announced its Additional Public Offering priced at $2.20 for existing shareholders and $2.40 for the general public, seeking to raise $3.50 billion dollars by issuing approximately 1.50 billion new shares. The proceeds from the APO will be used to facilitate growth and to reduce its debt, according to the Company.
Value for money
Importantly, buying expensive shares are highly discouraged by most investors because it limits one from buying many stocks, and you may also fail to get good returns at the end. A review of some players in the Food and Distribution industry shows that Seprod appears to be at the higher end of the spectrum based on its price per share of $66.82, while DTL's share price of $2.30 is at the opposite end, based on the table below. However, the price alone should not be used to determine if an investor is getting the bang for buck. One of the most commonly used metrics to assist investors in analyzing companies and their peers is the P/E ratio.

A price-earnings (P/E) ratio is a key tool widely used by investors and analysts to compare the valuations of individual stocks. It reflects what the market is willing to pay for a stock today based on its past or future earnings, although it is typically calculated based on the last twelve months of earnings. A high P/E ratio could mean that the price of a stock is high relative to past earnings and possibly overvalued. Conversely, a low P/E ratio could indicate that the current share price is low relative to past earnings. Importantly, any P/E ratio relationship should be considered in the context of the P/E ratio for the firm's industry and compared to its peers to seek out opportunities. Based on the information presented in the table above, GK's P/E ratio of 10.82 times is below its peers, and the average of like companies presented above of 15.34 times as of December 17, 2020. LASD appears to be an attractive option as well with a ratio of 13.48 times relative to the peer's average. Additionally, companies that grow at a faster pace than average tend to have a higher P/E ratio. A higher P/E ratio may also show that investors may be willing to pay a higher share price today due to growth expectations in the future. This may be the case for DTL as they traded at a P/E ratio of 18.97 times as at December 17, 2020.
While growth companies may capture our imagination and attention, mature companies deliver most of the current output and employment in an economy. Keeping in mind that we inherited USD$1 million dollars, liquidity issues may arise should we look to companies on the Junior Market. Considering this, it is our belief that GraceKennedy should be the Company to invest the US$1 million dollars in for the next ten years. Founded in 1922, GraceKennedy can be considered as one of the backbone companies in our economy. GK is a mature company delivering output and employment in our economy and others as well with a vast number of subsidiaries under the GK Group. The Group has a brand that is well known locally and internationally, while the business is well diversified geographically, reducing risks associated with any one market. Furthermore, GraceKennedy has the capacity to expand its products and services in accordance with customers' needs and the general market.
To date, GK's performance has thus far bested Covid-19, producing profits of $4.93 billion, a stellar 33% increase for the nine months ended September 30, 2020 relative to same period in 2019. Amidst this, GK is poised for organic growth and inorganic growth as the Group established two business units, Digital Transformation, and Mergers and Acquisitions. This team's focus will be placed on identifying inorganic growth opportunities, allowing it to expand and achieve its future targets. With a price per share of $61.33 and a corresponding P/E ratio of 10.82 times, well below other publicly listed companies on the JSE, GK is our Food and Distribution company to invest in over the next ten years.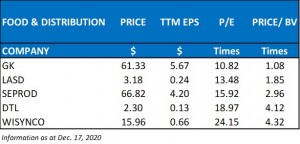 Finally, we ranked the five companies above based on fundamentals and value. We hope this guides your investment decision making process going into 2021 and beyond as we continue to invest in our futures as we all have to live in it.