January 16, 2018
The Consumer Price Index for All Urban Consumers (CPI-U) increased 0.1% in December on a seasonally adjusted basis, the U.S. Bureau of Labor Statistics reported recently. Over the last 12 months, the all items index rose 2.1% before seasonal adjustment.
An increase of 0.4% in the shelter index was responsible for approximately 80% of the 1-month all items increase. The index for food rose in December, with the indexes for food at home and food away from home both increasing. A sharp increase was observed in the energy index for November, but declined in December as a result of the decrease in the gasoline index. The index for all items less food and energy increased 0.3% in December, its largest increase since January 2017. Along with the shelter index, the indexes for medical care, used cars and trucks, new vehicles, and motor vehicle insurance were among those that increased in December. The indexes for apparel, airline fares, and tobacco all decreased during December.
The all items index rose 2.1% for the 12 months ending December, compared to 2.2 per cent for the 12 months ending November. The index for all items less food and energy increased 1.8% over the last year; the 12-month change has now been either 1.7 or 1.8% for eight consecutive months. The food index rose 1.6% over the past year; the index for energy increased 6.9, with all of its major component indexes rising during 2017.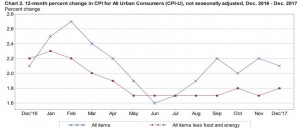 Source: Bureau of Labour Statistic