According to Bureau of Economic Analysis the U.S. economy grew faster than previously estimated in the second quarter, recording its fastest growth since 2015. The growth rate was 0.1% more than the "second" estimate released in August. In the first quarter, real GDP increased 1.2%. However, the report also advised that the momentum probably slowed in the third quarter as Hurricanes Harvey and Irma temporarily curbed activity.
The Bureau reported that "the second‐quarter, increase in real GDP reflected increases in consumer spending on goods and services as well as increases in business investment, exports, and federal government spending."  The increase in consumer spending was led by increases in housing and utilities; other services, notably in communication services; and other nondurable goods, primarily in prescription drugs according to the Bureau. While, the increase in business investment reflected increases in all three components: equipment, structures, and intellectual property products, as per the Bureau. However, the increase was offset by declines in housing investment and state and local government spending.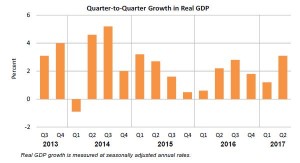 Source: Bureau of Economic Analysis
Corporate profits
The bureau reported that corporate profits increase 0.7% in the second quarter 2017, relative to a 2.1% decline in the first quarter
Profits of domestic nonfinancial corporations increased 4.9% after increasing 0.3%.
Profits of domestic financial corporations decreased 7.1% after decreasing 7.9%.
Profits from the rest of the world (net) decreased 2.5% after decreasing 2.1%.
Corporate profits increased 6.4% from the second quarter of 2016.