In United States dollars (except where it is indicated otherwise):
Caribbean Producers Jamaica Limited (CPJ) for the year ended June 30, 2017 reported a 4% growth year on year in revenues to close at $98.29 million compared to the $94.10 million for the prior year. For the fourth quarter the company posted a 19% growth in revenues to close at $25.96 million relative to $21.77 million for the same quarter of 2016.  CPJ noted, "the company recorded significant growth in all key areas for the financial year ended June 30, 2017. Having had mixed results prior year the company realigned its business model to complement the areas in which it has competitive advantages. The non-core chemical division was discontinued and the company regained market share in key product segments."
Cost of goods sold showed a 3% increase closing the period at $71.16 million relative to $69 million for the previous year. For the quarter the company recorded a 13% increase in cost of goods sold to close at $18.99 million relative to $16.83 million for the comparable period in 2016.
Consequently, CPJ recorded an increase in gross profits to $27.13 million (2016: $25.72 million). Gross profits for the quarter however improved from $4.94 million in 2016 to $6.97 million. According to management, "the favourable movement in gross  profit was due to increased market share in key product categories and better execution of the company's pricing strategy as a result of a fairly stable economy."
Selling and administrative expenses were $20.04 million, a 1% decrease on the $20.24 million posted last year. According to CPJ, "the company employed various cost control strategies across all business segments and these reflected positive outcomes. There were gains in operational efficiencies which were reflected marked improvements in supply chain and warehousing practices."
Depreciation for the period rose 8% closing the period at $2.64 million (2016: $2.45 million).
Other operating income totaled $163,448; this compares with an operating income of $132,691 booked a year ago.
Profit before finance costs, income and taxation improved 81% to total $4.62 million relative to $2.55 million in 2016.
Finance costs amounted to $1.76 million (2016: $1.86 million). Finance income decreased by 92% to close at $953 (2016: $12,557). As such profit before taxation was $2.86 million compared to a profit of $721,480 million in 2016.
Net profit for the financial year amounted to $2.59 million (2016: $1.05 million) following tax charges of $267,563 (2016 tax credit: $329,505). Net profit for the quarter amounted to $654,030 relative to a net loss of $884,632 booked last year.
Net Profit attributable to shareholders for the period amounted to $2.55 million, this compares with the net profit attributable to shareholders of $1.05 million booked last year.
As a result, earnings per share (EPS) for the year amounted to US$0.232 cents compared to EPS US$0.095 cents in 2016.  EPS for the quarter amounted to US$0.059 cents relative to a loss per share of US$0.080. The number of shares used in our calculations amounted to 1,100,000,000 units.
CPJ stated, "with Jamaica's economy projected to continue on its stable path, the company remains confident that the strengthening of the business will continue in the financial year 2017/ 2018. Management feels that the growth in our core business will continue due to additional opportunities on and offshore. This combined with improved operational efficiency within the group will yield enhanced  shareholder value."
Balance Sheet Highlights:
As at June 30 2017, CPJ's total assets amounted to $54.57 million, a 2% decline year over year from the $55.85 million as at June 30, 2016. The decline was due mainly to reductions in 'Cash & Cash Equivalents' and 'Intangible Assets' by 31% and 10% respectively. 'Cash & Cash Equivalents' amounted to $2.76 million (2016: $4 million), while 'Intangible Assets' closed at $12.25 million (2016: $13.67 million).
Total liabilities declined 11% year over year to $32.72 million (2016: $36.58 million). The decline was mainly attributed to a 51% reduction in 'Short-term Loans' to $2.50 million (2016: $5.10 million).
Shareholder's Equity as at June 2017 totaled at $21.86 million (2016: $19.27 million) resulting in a book value per share of approximately US$1.99 cents (2016: US$1.75 cents).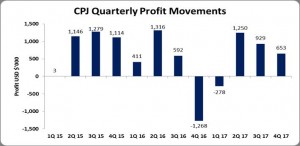 The information contained herein has been obtained from sources believed to be reliable, however its accuracy and completeness cannot be guaranteed. You are hereby notified that any disclosure, copying, distribution or taking any action in reliance on the contents of this information is strictly prohibited and may be unlawful. Mayberry may effect transactions or have positions in securities mentioned herein. In addition, employees of Mayberry may have positions and effect transactions in the securities mentioned herein.