Brent Oil
Brent oil prices decreased by 3.61%, as prices declined this week. Oil traded on August 16, 2017 at a price of 52.27 (US$/ barrel).
Petrojam prices
87 Octane prices declined week over week, by 1.10% . Additionally 90 Octane  declined by 1.07% week over week. 87 Octane and 90 Octane opened the year at J$97.32 and J$98.98 respectively.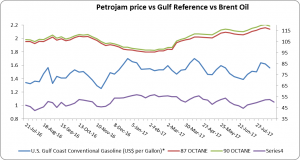 Figure 1: Petrojam, U.S. Gulf Coast Conventional Gasoline Regular and Brent Crude Oil 1 Year Price History
This Week in Petroleum
EIA's Drilling Productivity Report initiates coverage of the Anadarko Basin
To provide more complete coverage of U.S. crude oil and natural gas production, the EIA has expanded its Drilling Productivity Report (DPR) to cover the Anadarko Region, which encompasses most of the production from the Anadarko Basin in 24 counties in Oklahoma and 5 counties in Texas. The Anadarko Region has a long history of hydrocarbon production and, in recent years, has seen an increase in activity, mainly from two areas commonly known as the STACK (Sooner Trend Anadarko Canadian and Kingfisher) and SCOOP (South Central Oklahoma Oil Province) plays.
The Anadarko Region covers a large portion of Western Oklahoma and the northeast corner of the Texas panhandle (Figure 1). The new DPR region was defined by identifying the most prolific oil-producing counties in the area. In 2010, the U.S. Geological Survey completed an assessment of the Anadarko Basin and estimated a mean technically recoverable undiscovered resource of 495 million barrels of oil, 27.5 trillion cubic feet of natural gas, and 410 million barrels of natural gas liquids.
https://www.eia.gov/petroleum/weekly/