Brent Oil
Brent oil prices increased by 2.05%, as prices increased this week. Oil traded on September 21, 2017 at a price of 56.29 (US$/ barrel).
Petrojam prices
87 Octane prices declined week over week, by 0.94% . Additionally 90 Octane  declined by 0.92% week over week. 87 Octane and 90 Octane opened the year at J$97.32 and J$98.98 respectively and now trades at J$118.62and J$121.46 per litre .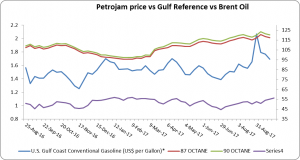 Figure 1: Petrojam, U.S. Gulf Coast Conventional Gasoline Regular and Brent Crude Oil 1 Year Price History
This Week in Petroleum
U.S. oil companies increased liquids production and cash flow in the second quarter of 2017
Second-quarter 2017 financial statements for 55 U.S. oil companies indicate that aggregate liquids production grew year over year for the first time since the fourth quarter of 2015. Cash flow from operating activities also increased year over year, the third consecutive quarter of year-over-year growth, reaching the highest level in nearly two years. These companies' ability to sufficiently meet financial obligations and their increased hedging activity, which locks in prices for their future production, suggest that production could continue growing in the coming quarters.
The 55 companies included in the analysis are listed on U.S. stock exchanges and must submit financial reports to the U.S. Securities and Exchange Commission. They operate largely in U.S. onshore basins, but some also operate in the Federal Offshore Gulf of Mexico, Alaska, and various other regions across the globe.
Cash from operations for these 55 companies totaled $11.9 billion in the second quarter of 2017, $3.8 billion higher than the same period in 2016 and the highest level for any quarter since the third quarter of 2015 (Figure 1). Higher crude oil prices and production contributed to the increase in cash from operations. West Texas Intermediate (WTI) front-month futures prices averaged $48.15 per barrel (b) in the second quarter of 2017, $2.51/b higher than in the second quarter of 2016.
https://www.eia.gov/petroleum/weekly/