The economy continues to add to the number of persons in the labour force. Based on a report released by the Jamaica Statistical Institute of Jamaica (STATIN), as at July 2017, the labour force comprised of 1,371,200 persons compared to 1,363,200 persons recorded in July 2016. The number of males in the labour force increased approximately by 0.5% or 3,300 to 735,900, while the female labour force rose 3,700 to 635,300.
According to STATIN, "the employed labour force for July 2017 was 1,216,200 which was 29,200 (2.5%) when compared with the 1,187,000, recorded in July 2016." The main occupational groups responsible for the increase were 'Service Workers and Shop and Market Sales Workers' and 'Skilled Agricultural and Fishery Workers'. The number of employed males increased by 14,200 or 2.1% from 663,100 in July 2016 to 677,300 in July 2017. For females, employment increased by 15,000 to close July 2017 at 538,900 (July 2016: 523,900).
The industry which reported the largest increase in the number of persons employed was 'Hotel & Restaurants Services' which increased 11,000 to 107,400 (July 2016: 96,400). According to the report, "the largest increase in the number of males employed (6,800) was in the industry group 'Agriculture, Hunting, Forestry and Fishing' moving from 145,200 to 152,000 representing a 4.7 per cent over the period. For females, the industry group 'Hotels & Restaurants Services' accounted for the largest increase of 8,300 (14.9%) over the period, moving from 55,700 in July 2016 to 64,000 in July 2017."
The unemployment rate as at July 2017 was 11.3% compared to 12.9% for the prior year's corresponding period. The Statistical Institute of Jamaica (STATIN) indicated the decrease of 1.6% was, "driven by a decline in the unemployment rate for both males and females. The unemployment rate for males decreased from 9.5 per cent to 8.0 per cent while that of the female decreased from 16.9 per cent to 15.2 per cent."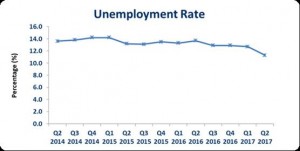 The information contained herein has been obtained from sources believed to be reliable, however its accuracy and completeness cannot be guaranteed. You are hereby notified that any disclosure, copying, distribution or taking any action in reliance on the contents of this information is strictly prohibited and may be unlawful. Mayberry may effect transactions or have positions in securities mentioned herein. In addition, employees of Mayberry may have positions and effect transactions in the securities mentioned herein.