Brokerage firm, Mayberry Investments Limited recently donated $500,000 to the Kingston YMCA, a community-focus non-profit organization on Hope Road in Kingston.
The YMCA is known worldwide for its recreational programmes and services to children of all age groups.
The YMCA partnership arose out of a plea made by Delroy Chuck, Minister of Justice, a former recipient of the YMCA, to assist in any way to raise $2 million by the end of the year.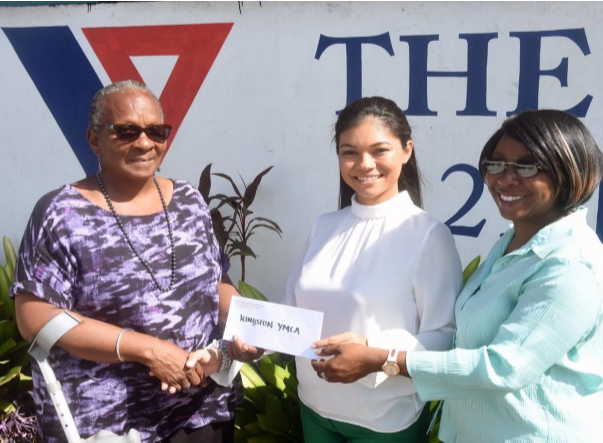 Sarah Newland-Martin (left), Administrator & General Secretary of The Kingston YMCA and Hilary Perkins (right), Administrative Assistant at The Kingston YMCA shows appreciation, as Stephanie Harrison (center), Digital and Marketing Manager Mayberry Investments Limited hands over a cheque from the organization in support of youth development programs at The Kingston YMCA, Hope Road.
According to Sarah Newland-Martin, Administrator, General Secretary of The Kingston YMCA, "when we had the launch of YMCA's 100th anniversary, I had discussions about the challenges faced, and Chuck made a commitment to see how he could help to raise $2 million to cover up to the end of the year because every year at this time we are usually struggling to meet commitments, especially with us operating like a similar school term".
"He has really gone beyond what my expectations were and I must say a big thanks to Mayberry for helping us at this time, you would never imagine how much we appreciate what you are doing," continued Sarah Newland- Martin.
The programme facilitates youngsters who have been exposed to a myriad of unfortunate circumstances and is used as a tool to positively impact their lives.
" Apart from the youth development programme, formerly known as the street corner boy's programme, there is swimming, summer camp, leadership training, tennis, special needs adults programme and others" ended Newland-Martin.
The Young Men's Christian Association (YMCA) originated in England and came to Jamaica after being in existence for 13 years; YMCA will celebrate its 100th anniversary on June 9, 2020.